Western-Caucasus Research Center | WCRC
From Knowledge to Wisdom
Mission of the Western-Caucasus Research Center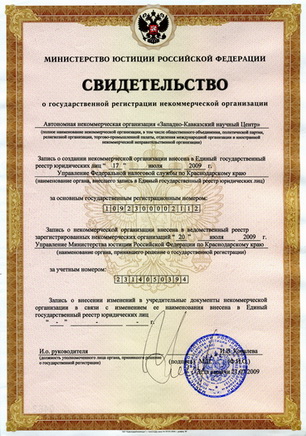 Western-Caucasus Research Center (WCRC) (Tuapse, Russian Federation) is the independent research organization.

Center has been established to undertake scientific researches, organize research-educational and expedition programs, organize short lecture courses
and provide professional advice.

WCRC is an integral part of the Russia research community.

Western-Caucasus Research Center Was established in July 17, 2009.

The Main State Registration Number is: 1092300002112

The Center operates through an extensive network of international collaborations with leading scientific organizations and prominent individual scientists
and engineers, which are organized in a group of Honorary Fellows and Research Associates.

The Center undertakes researches and provides professional advice in the following fields:

- Combustion Mechanisms of the Energetic Materials;
- Combustion/Flow Visualization;
- Internal Ballistics of Solid Motors;
- Ignition and Combustion of Propellants for Space and Rocket Propulsion;
- Theoretical Modeling and Numerical Simulation of Combustion Processes of Energetic Materials;
- Commercial Applications of Energetic Materials;
- Nano-technology;
- Visualization of the combustion processes of the energetic materials;
- Ignition and Initiation Processes;
- Combustion Instability Risks;
- Solid rocket combustion instability;
- Flame zone physic-chemistry in solid rocket instability;
- Environmentally Friendly Energetic Materials;
- Internal structure of the burning wave;
- Geo-Ecology;
- Geology;
- Natural Climate Change.

The part of the researches is executed in the scientific and research organizations, which are been the partners of the Center.

The scope of research and educational activities also includes the following categories:

- Organization of professional courses, workshops, seminars, conferences and symposia;
- Exchange of research scholars;
- Participation in Joint Research Projects.

Our goal to make our research findings available to the public. We are also interested in the research done by colleagues elsewhere.


Thank you for visiting the Western-Caucasus Research Center Web site!



---
WCRC.RU | Western-Caucasus Research Center | Западно-Кавказский научный Центр | Contacts:

info@wcrc.ru | Designed, powered, and maintained by WCRC